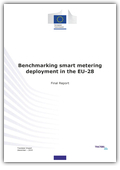 Benchmarking smart metering deployment in the EU-28
The European Commission has published a new report on recent progress and trends on the roll out of smart metering in the EU, in line with the provisions of the Third Energy Package.
This analysis report includes best practices, lessons learned and recommendations for investments in smart metering, such as the conditions to offer the highest amount of benefits to European consumers and businesses, bearing in mind recent policy initiatives, such as the recast Electricity Directive.
Click here to access the report and here for the accompanying country fiches.